Teachers, Apply To Attend Foundation 2014 Teacher Retreat!
May 05, 2014 | 8:05 am
Every two years, the Foundation gathers some of the best and brightest educators in our network to advise on education resources and materials. This year, the group will meet in Smoky Canyon, Wyoming from July 15-17th to discuss education goals and next steps for the Foundation. The attendees will also tour a phosphate mine, a very rare opportunity! In the past, some amazing ideas have sprung for this meeting, and we hope you will let us know if you are interested below. If chosen, your flights, meals, activities, and accommodations will be taken care of out of appreciation from the Foundation.
Here are some highlights from the 2012 teacher retreat in North Carolina!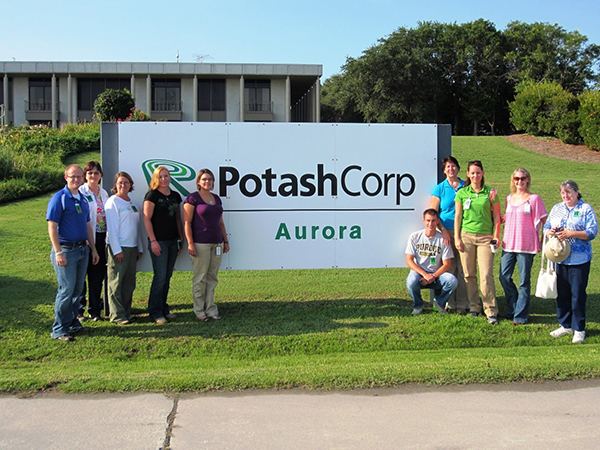 Against the calm flow of the Pamlico River, eight educators from around the country convened at the PotashCorp Bath Lodge in Bath, N.C., in July 2012 to "talk soil." Their mission was an important one: guide the development of future education materials for the Nutrients for Life Foundation. Comprised of elementary to secondary science and agriculture teachers, the small group met to discuss the desired path for future materials and programs for NFL.
"This group of diverse teachers examined each component of the Nutrients for Life curriculum and arrived at a 'top ten' list of curriculum additions that they believe would be beneficial to teachers who teach soil science and plant nutrients," explained Julie McGuire, education specialist for the Foundation. "We want to develop resources and materials that are precisely what teachers will find useful in effectively teaching soil science. To do this, we wanted to hear straight from the teachers." The list included the development of a new edition of Nourishing the Planet in the 21st Century high school curriculum, due out in early summer 2014. Other materials developed based on this meeting included new classroom visuals to illustrate the nitrogen and phosphorus cycle, plus more redesigned magnets.
Nutrients for Life Foundation | Capitol View | 425 Third Street SW . Suite 950 | Washington, DC 20024