Julie's Great Experience at the 4R Retreat
August 16, 2013 | 12:08 pm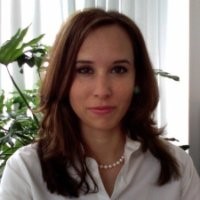 By Julie Buratowski, Foundation Education Specialist
Last week, I had to opportunity to join some of my colleagues in Ottawa, Canada to attend a 4R Nutrient Stewardship retreat. Attendees included staff from Nutrients for Life Canada, the International Plant Nutrition Institute, The Fertilizer Institute, and the Canadian Fertilizer Institute.  It was a fantastic group! Much of what we discussed was strategic planning for the 4R Nutrient Stewardship framework, but my time there also gave me many fresh ideas on incorporating 4R Nutrient Stewardship into some of our free education resources.
Presently, the Nutrients for Life Foundation includes 4R Nutrient Stewardship in our Helping Communities Grow program geared towards FFA chapters. In Helping Communities Grow, chapter members create community outreach projects on the importance of soil nutrients. From the retreat, we decided to utilize local retailers as well with "Helping Communities Grow" by educating retailers on the program and providing ideas on how they can be involved with their local FFA chapter.
We are very excited to announce that the Foundation is also working to create a high school level education piece about federal regulations and the fertilizer industry's active role in meeting and exceeding these regulations. This resource is expected to be available in spring 2014!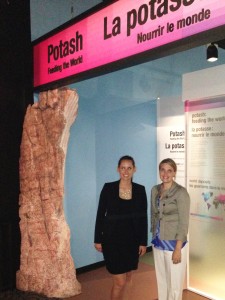 After the meeting, we squeezed in a visit to the Canada Science and Technology Museum to tour their new exhibit, "Potash: Feeding the World." The exhibit focuses on Canada's rich potash deposits, which are essential to soil health and food production globally. The permanent exhibit display is in three sections. First, the exhibit explains what exactly potash is and how it is mined. I loved how the exhibit's walls had a textured appearance to look just like the walls deep inside a potash mine!
The next section of the exhibit explored the essential questions, "Why do we mine potash? What happens to crops that have a potassium deficiency?" At the end of the exhibit, visitors see how potash produced in Canada is used around the world. I especially loved the digital interactive game in this section. On a touch screen table, visitors can slide potash from Canada to different regions of the world and learn how potash makes an impact in that area. It was such a fun, interactive feature!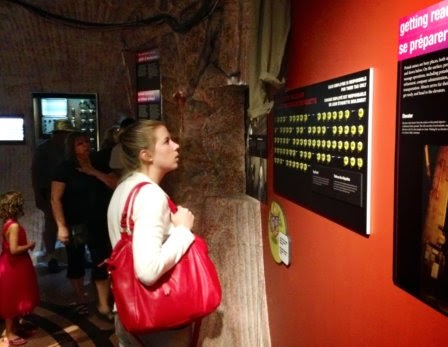 I really enjoyed my visit up North! I came away with an exciting full list of things to do for the Foundation and a new appreciation for potash, not to mention a few new slang words, eh!
Nutrients for Life Foundation | Capitol View | 425 Third Street SW . Suite 950 | Washington, DC 20024