Corn. It's What's for Dessert?
August 14, 2013 | 12:08 pm
Last night, with true eleven year old wisdom, my oldest daughter proclaimed, "Sweet corn is the only vegetable you can eat for dessert!"  I wholeheartedly agree, however, when I planned the garden last winter, I had no intentions of growing sweet corn.  My dad is known throughout town as growing the best sweet corn. Why should I worry about chasing away raccoons or controlling corn ear worms (ew) when I know I can get the best sweet corn from him?
But, oh no!  My plan was altered…  Come spring, my three girls insisted we plant sweet corn and I folded.  This is the first time I have ever had my very own sweet corn patch, thus we consulted an expert, good 'ol dad.  He told us what variety to plant, when to plant it, how deep to plant it, and when to fertilize.
The girls have checked the sweet corn nearly every day for weeks.  They watched it grow and tassel, then the ears grew, and eventually the silks turned brown. Finally, tonight was the night! Harvest time!  They each harvested a row and shucked the husks off the ears.
I boiled a pot of water, added the corn on the cob to the water, and cooked it for three minutes.  Voilà!  The high sugar content of sweet corn makes it a perfect dessert in this house.  Hooray for summer sweetness!  The girls ate every kernel off of every ear.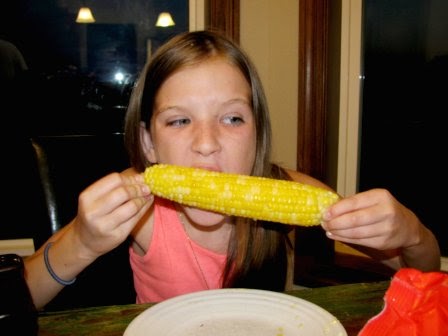 We leave tomorrow for a last minute family vacation before school starts.  In the midst of back to school shopping, soccer practice, packing and cleaning house, I find myself in the kitchen, exhausted and freezing sweet corn.  As a family, we worked hard to get our first sweet corn crop; I am not going to waste a single kernel!  Especially because… "Nine out of ten raccoon's prefer it!"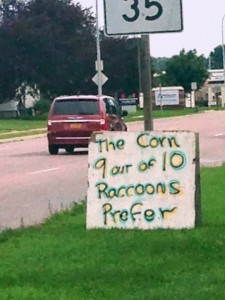 If you have ever tried to grow sweet corn, you understand how funny this road side sign is.  Those darn racoons!  I found this stand in Le Mars, Iowa.
Nutrients for Life Foundation | Capitol View | 425 Third Street SW . Suite 950 | Washington, DC 20024