A Blue Ribbon Day
July 30, 2013 | 11:07 am
The day has arrived!
A season of hard work was displayed at our county fair today as my daughter carefully selected and prepared the vegetables we had grown to be judged. Prior to judging, we had a harvest party. We picked every vegetable that was ripe.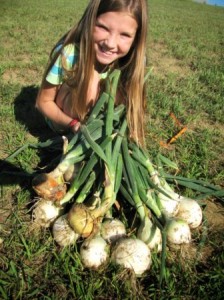 Thanks to our healthy soil regiment, including fertilizing, irrigating, weeding, and controlling pests we had plenty of vegetables to harvest!  The chosen ones included Stone Head Cabbage, Kennebec Potatoes, Texas Super Sweet Onions, White Onion Sets, Bush Crop Cucumbers, Better Boy Tomatoes, Clemson Spineless Okra, Hungarian Hot Wax Peppers, Ornamental Peppers, Hybrid Jalapeno Peppers, Big Bertha Green Peppers, and Jade Green Beans. Whew!
Then we sorted through the vegetables to choose the most uniform set of each.   As you can see from the photo below, my 4-Her placed the green beans in a line.  She was trying to find five that were the same length and shape to exhibit.
The judge looks for freshness, cleanliness, good size and color. If there is mechanical, insect, or disease damage, the vegetable will be docked points.
As a mom, I do the same thing when I am in the grocery store. If the produce looks old, dirty or damaged, I pass it up. Farmers and producers know that we have a certain expectation when shopping, we want blue ribbon vegetables to put into our shopping cart. From experience, I can tell you that without water, fertilizer and insect control, our vegetables would all receive white ribbons rather than the coveted blue ones!
Today my 4-Her is enjoying her blue ribbons and special merit awards, but today was not about the ribbon, it was about the experience that brought her to that moment. She has learned a great deal about setting goals and working hard. As a mom (and gardener) I couldn't be prouder.
Nutrients for Life Foundation | Capitol View | 425 Third Street SW . Suite 950 | Washington, DC 20024