Mid-Season Side Dressing
June 25, 2013 | 8:06 am
Whew, a week of sunshine and the garden looks great. The tomatoes I last blogged about last week have doubled in size, thanks to the sunshine and fertilizer. We also enjoyed our first harvest of broccoli, cauliflower and lettuce. Yum, yum! My girls gobble up this fresh produce, consuming fresh foods that are a good source of protein, vitamins, calcium, iron, magnesium, phosphorus, potassium, without evening knowing how good it is for them!
Vegetables are packed full of the "good stuff" and that "good stuff" comes from the seed and its environment; soil, air, sun and water. The plants pull the minerals and nutrients from the soil and water to make the vegetable. In order to keep these crops growing; we have to feed the soil and water the "good stuff," nutrients. Mid-season, I keep the soil fed by side dressing.
I brought my camera out to the garden; to document how to side dress with fertilizer. I often wonder how much dirt my camera can handle.  Maybe they could make a "garden proof camera."
First, I used my hoe to make a trench 5-6 inches away from the stem of the plant. It's important to stay at least five inches away from the plant, any closer than that you run the chance of burning the plant and possibly killing it (been there, done that).  If the fertilizer is too close, it is just too strong for the plant to handle. Placing the granules further out, allows the roots to pull it in without overloading.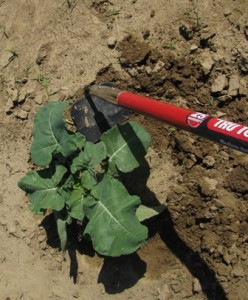 The trench continues all around the plant to make a circle.
Then I sprinkled in the granular fertilizer. This fertilizer is a 10-10-10 mix. It is a balanced portion of N-P-K (nitrogen, phosphorus and potassium).  I added the recommended amount from the bag. More is not better, be sure to apply the correct amount as recommended.
Here you can see how I went all of the way around the plant with the fertilizer.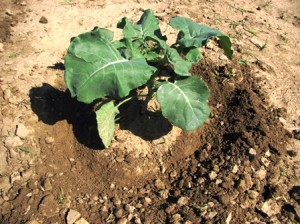 Next, I covered up the fertilizer granular with soil. Covering the fertilizer will help prevent the fertilizer from splashing up on the leaves, which again, can burn the plant. If you use composted manure for side dressing, it's still best to follow the same side dressing guidelines.
Lastly, I put away the camera (it may be dirt-proof but not waterproof) and watered. The water releases the fertilizer and allows the roots to start absorbing the "good stuff."
Nutrients for Life Foundation | Capitol View | 425 Third Street SW . Suite 950 | Washington, DC 20024