A Year in Review for Illinois's Regional Representative
February 20, 2013 | 10:02 am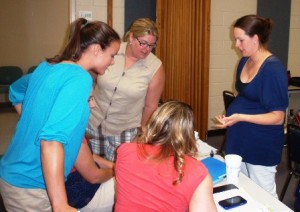 Of the 76,000 farms covering the 28 million acres of farmland in Illinois, 94 percent are family owned and operated. These families rely on the fertile loess soil to feed their own families, as well as, produce corn, soybeans, and other agricultural commodities that feed and fuel our world. To keep our farmlands fertile, farmers add crop nutrients back to the soil that was depleted by the previous crop. The three essential nutrients required by crops are nitrogen, phosphorus and potassium. Without these nutrients, plants would be weak and less productive.
Haley Siergiej, the Illinois Regional Representative for Nutrients for Life, has been working with Illinois teachers and professionals in the agriculture industry to reinforce how important fertilizer is as an ingredient in food production.
Partnerships
One highlight of Haley's first year with the Foundation was a strong partnership with the Farm Bureau, which allowed her to give presentations at many county Summer Ag Institutes (SAI). Haley shared Nutrients for Life information and educational materials with teachers; many of whom were unfamiliar with the Foundation and their resources. Haley started her presentations with the Foundation's "Man on the Street" video, which humorously reveals that not everyone has a depth of knowledge about the importance of fertilizer. Next, she connected the importance of fertilizer and food production with population growth via the "Earth Apple" demonstration, which is found in the Nourishing the Planet in the 21st Century middle and high school curriculum. An apple is used to represent the Earth, and it is sliced to show the amount of land available for food production. The result left very little peel (land) available, therefore emphasizing the need to nourish the little farmland that is available on our planet. Haley reports that the teachers were excited to learn more about Nutrients for Life's curriculum and materials.  Partnerships with the Farm Bureau and other agricultural entities provide opportunities for our regional representatives to further the mission of the Foundation.
Presentation
"Attending and presenting at workshops is one of my favorite aspects of working as a regional representative. The face-to-face interaction with teachers and students is exciting and essential in teaching the importance of agriculture," reported Haley.
Haley represented Nutrients for Life and presented our materials at the following events:
Illinois State FFA Convention;
Illinois Association of Vocational Ag Teachers Conference;
Nutrients for Life Days at Potash Corp in Northbrook, IL and Ohio;
National Science Teachers Association in Indianapolis, IN;
Illinois Ag in the Classroom Coordinator Meeting in Bloomington, IL;
Farm Progress Show in Amana, IA;
Brandt event in Springfield, IL;
Numerous AITC Summer Ag Institutes, teacher workshops, FFA meetings, and national agriculture day events within the state of Illinois.
Education
The National Science Teachers Association (NSTA) conference was the first Nutrients for Life event Haley attended.  Haley said, "I started working with the Foundation right before the conference. The NSTA conference provided a great revelation about how much teachers appreciate our high quality free materials.  It was exciting to see the amount of gratitude expressed and the excitement from the teachers.  It's a rewarding feeling to not only enjoy your job, but to truly believe in what you are doing. The Foundation believes that all of our resources should provide factual, science-based information that educates others. With so many misconceptions existing around our industry, I couldn't agree more."
Agricultural education is strongly interconnected throughout the state of Illinois at the elementary, high school and college levels. By maintaining relationships and establishing new partnerships with the state's Ag in the Classroom program, FFA program, Facilitating Coordination for Agricultural Education representatives, and various college professors, Haley and other regional representatives can successfully share the Foundation's message throughout their states.
Helping Communities Grow
This is the first year that the Nutrients for Life Foundation's Helping Communities Grow program is available to Illinois FFA chapters. The program challenges FFA chapters to use Foundation resources and educate their students, and community about crop nutrients.  "With our soil science resources, I am proud to say that 28 FFA chapters are taking advantage of this exciting new program. I think that number shows the enthusiasm that exists here in Illinois. Teachers are very busy as it is, especially agriculture teachers; yet many are always looking for new ways to expand and enhance their programs," commented Haley.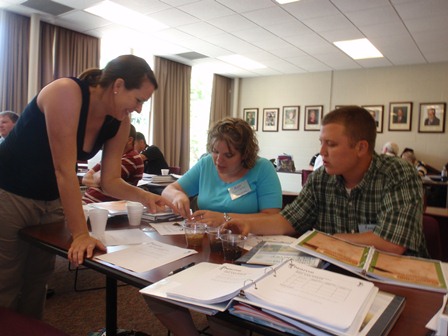 Nutrients for Life Foundation | Capitol View | 425 Third Street SW . Suite 950 | Washington, DC 20024