A year in review for Colorado's Regional Representative
February 22, 2013 | 2:02 pm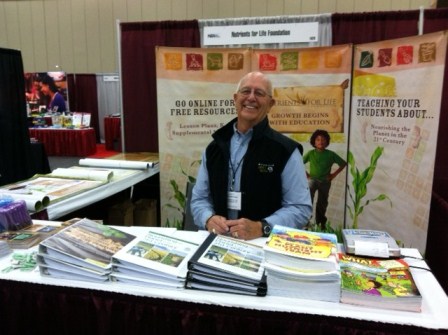 Farmers in Colorado harvest a variety of fruits and vegetables, including peaches, apples, cantaloupe, potatoes and onions. A key ingredient in the production of these foods is fertilizer. At Nutrients for Life, our mission is to tell the story of fertilizer and let others know how essential crop nutrients feed the world. Colorado's regional representative, Jerry Alldredge, joined the Nutrients for Life team in February 2012 and has spent the past year carrying out the mission of the Foundation in Colorado. When asked about his new role Jerry said:
"What an honor it is to be part of this accomplished and talented team. We face the tremendous challenge in helping our nation understand the role fertilizer and American farmers play in feeding the explosive population growth in the world, while farming the same amount of land. A large section of our society is generations removed from our farming heritage and as a result, some take their food source for granted. The Foundation materials and curriculum give our educators and their students a better understanding of the science of a healthy food supply and its role for the future."
Partnership in Education
Intrepid Potash sponsors the Colorado Nutrients for Life Regional Representative position. Through this sponsored position, Jerry meets and educates teachers, inspires students, and brings the importance of agriculture to the next generation. The highlight of Jerry's first year with Nutrients for Life was working as an instructor in Agrium's Seed Survivor trailer (read more here), a mobile plant nutrient classroom. The mobile classroom toured Colorado schools during the early summer and fall months of 2012, and Jerry presented at twelve elementary schools, three water festivals, two educational farm days, and the Colorado State FFA convention. Over 100 teachers received Nutrients for Life materials and curriculum during the training with over one thousand first through fifth graders gaining more knowledge about plant growth, soils, and the importance of crop nutrients.
Education
"Attending educational conferences and conventions provides a great opportunity to give educators science-based materials and curriculum. Soil science is a sought after curriculum component for teachers, and we are filling that need with our materials. They express gratitude and excitement when we can fill this need, free of charge," said Jerry. So far, Jerry has reached over 700 teachers and presented to over 2,000 students.
Jerry attended and presented our foundation materials at the following events:
Colorado State FFA Convention;
National Ag in the Classroom in Loveland, CO;
Simplot Days in Vernal, UT, Rock Springs, WY, and Augusta, GA;
National Science Teachers Association (NSTA) regional convention in Louisville, KY;
National FFA Convention in Indianapolis, IN;
NSTA Colorado State Convention in Denver, CO;
Colorado Farm Bureau Convention in Denver, CO;
NSTA Regional Convention in Phoenix, AZ.
Helping Communities Grow
This year, Nutrients for Life Foundation introduced the Helping Communities Grow program to Colorado FFA chapters. Jerry works with FFA members at the state and local level, and as a result, Colorado has six FFA chapters participating this year. Jerry said, "I look forward to seeing the impact of these FFA chapters as they educate their communities about what plants need to grow and how nitrogen, phosphorus, and potassium aid in their growth and development."
In closing, Jerry commented about his first year with the Foundation, "Nutrients for Life is one of the most awesome teams that I have had the opportunity to work with in my long career in agriculture. The entire Nutrient for Life team is extremely talented. Our educational materials and curriculums are top notch."
Nutrients for Life Foundation | Capitol View | 425 Third Street SW . Suite 950 | Washington, DC 20024