A Year in Review for California, Idaho and Washington's Regional Representative
February 19, 2013 | 2:02 pm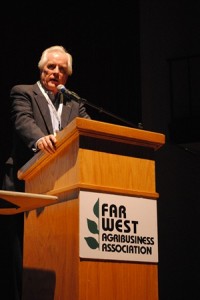 Through the development of educational resources and an outreach campaign to people across the country, the Nutrients for Life Foundation informs the public of the role nutrients play in both the production of a nutritious and abundant food supply, as well as, the preservation of healthy green spaces. Plant nutrients, especially nitrogen, phosphorus and potassium are required to keep our parks, gardens, playgrounds, sports fields and golf courses green and healthy in communities from coast-to-coast.
Rick Phillips carries this message to three states: California, Idaho and Washington. Rick is Manager of Public Affairs for Simplot AgriBusiness Group and Nutrients for Life Regional Representative.
Membership
Within Simplot, Rick communicates to its employees how the Foundation is educating the public about their commodities. Rick said, "This last year, we put together a campaign for Simplot employees to learn about the Nutrients for Life Foundation and invited all employees to become members of the Foundation. The project involved transporting a unique antique fertilizer truck to each of our mining and manufacturing sites. We demonstrated our company's long-term commitment to the fertilizer industry. During each campaign event, local FFA Chapters led activities that showed our employees how Nutrients for Life is engaging high school students in agriculture and education. It was interesting to see our employees learn how much they, themselves, did not know about their own industry. This helped them understand the need for an organization, such as Nutrients for Life, to be in our school systems today."
Teachers
As a regional representative, Rick sees one of the most rewarding as meeting with the teachers to share the Foundation's materials. Rick commented, "Sometimes in business and industry, we don't understand how committed most teachers are to their profession and how hard they work to teach our children. Teachers are hungry for scientific, verifiable information and resources. When they see that the Nutrients for Life Nourishing the Planet in the 21st Century curriculum meets all their qualifying standards, they are excited to be given a copy of the curriculum and its supporting materials."
FFA
Rick has some of the strongest FFA chapter participation numbers on the team, and he has strong collaborative partnerships at the state FFA level. This past year, Rick made presentations to six hundred teachers attending the California Ag Teachers Association annual meeting, as well as, the two-hundred Idaho Ag teachers who gathered for their annual meeting. Rick also presented the Nutrients for Life curriculum to two hundred teachers at the Idaho Science Teachers Association.
Nutrients for Life Foundation | Capitol View | 425 Third Street SW . Suite 950 | Washington, DC 20024