A Year in Review for the Foundation's Kansas Regional Representative
December 20, 2012 | 9:12 am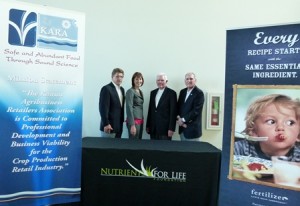 Kansas is a diverse agriculture state but is most successful in raising wheat.  In fact, they produce about 276,500,000 million bushels of wheat each year, making them the number one wheat producing state.  
 Fertilizer plays an important role in wheat production and feeding our world. The Nutrients for Life Foundation has partnered with Koch Fertilizer in establishing a Regional Representative position in Kansas this year. Sarah Bowser joined our team in November, and in this short period, she has created awareness in her state about the Foundation's educational efforts.
Education
The Nutrients for Life Foundation offers free educational materials: elementary, middle school and high school curriculum; posters; note cards; videos and more to educators and agribusinesses. Sarah said, "It has been rewarding to see firsthand the need for a quality soil science curriculum. When showcasing our educational resources, it is rewarding to see the genuine appreciation from teachers and witness the instance inspiration it provokes for classroom experiences."
Helping Communities Grow 
The Nutrient's for Life Foundation's Helping Communities Grow program gives FFA chapters the opportunity to help their communities become better informed about the positive role of plant nutrients, fertilizer and related agricultural issues.
Kansas had ten FFA chapters commit to this years Helping Communities Grow program. Sarah is excited about response from FFA chapters. She commented about a relationship fostered with an FFA chapter by an agribusiness, "Upon receiving the list of Kansas FFA chapters participating in this year's program, there was a chapter participating that I had not had previous direct contact with. In conversation with an agribusiness retailer from that community, the retailer shared that he had heard about Nutrient's for Life Foundation during the Kansas Agribusiness Retailers Association's annual meeting and immediately recognized the value of the program. He reached out to foster the relationship with his FFA chapter and is looking forward to working with the chapter to implement their program. It is great to see industry using the resource of NFL to support science learning in their community."
Sarah has a personal connection with the Kansas FFA Association. The soil science curriculum and Helping Communities Grow have allowed her to reconnect with the agricultural education community where she grew up. She said, "Personally, I am a student who benefited and owes much to FFA. It is a rewarding to provide talented educators the tools to execute engaging and interactive learning."
Partnership in Agribusiness
Working with the Kansas Agriculture Retailer Association is a great partnership for Nutrients for Life in Kansas.  Retailers have wonderful community relationships. Sharing our free resources with retailers allows them to facilitate a curriculum donation to their communities. This is an effective way to ensure that our materials and curriculum gets delivered to people who need them and will use them in a meaningful way.
During the Kansas Agribusiness EXPO, Sarah was provided the opportunity to highlight Nutrients for Life with Kansas Ag AM. Kansas Ag AM is a TV show shown throughout the state highlighting agriculture stories.
Sarah does a great job promoting the mission to educate and creates awareness about crop nutrients, as well as, highlighting our curriculum. Check it out! (The interview starts on 15:00 and goes through the end of the show.)
Nutrients for Life Foundation | Capitol View | 425 Third Street SW . Suite 950 | Washington, DC 20024