A Year in Review for Florida's Regional Representative
December 27, 2012 | 9:12 am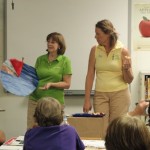 Phosphate rock is one of Florida's most abundant resources. Farmers all over the world use this natural resource to grow our food. With a large amount of phosphorus coming from Florida, it is important to educate the state's citizens about why phosphorus, as well as nitrogen, potassium and other plant nutrients, play an important role in getting food on our plates!
Education
In 2012, Florida's Nutrients for Life regional representative, Joan Kyle, spent many days in local schools teaching and assisting teachers in using the Foundation's resources. During one school visit, teacher Nancy Bridge taught seventy-five high school students in AP Environmental classes at Olympia High School in Orlando, Florida. Joan assisted Mrs. Bridge with teaching the students about soils, macro- and micronutrients, phosphate mining, phosphate manufacturing, and the reclamation process. With Mrs. Bridge's passion and hands-on approach, students learned through discovery and critical thinking about the phosphate mining process. With the world population exceeding seven billion people, students made important connections between the mining of phosphate rock and our world's food supply. Mrs. Bridge emphasized how phosphorus is one of the vital macronutrients plants depend upon to create energy; Florida plays a critical role in providing that nutrient to farmers. To learn more about this lesson, read the Soils and AP Class blog post.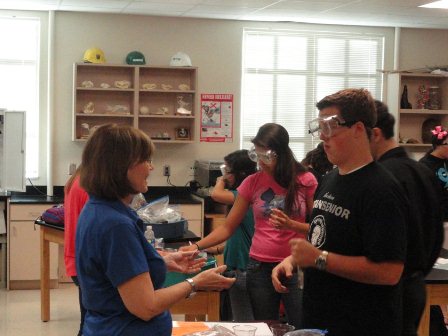 Joan said, "Any time students learn about a process and where things come from, there is a connection.  That connection means something! I got to witness students becoming more responsible because they were taught facts with credible scientific sources." This year, Nancy Bridge held an Earth Day event at Olympia High School for the first time. Students created a booth displaying their environmental project, and Mrs. Bridge encouraged students to collaborate with the agriculture industry and share their story regarding environmental commitment.  Joan reported, "Interacting with these students makes me proud that they will get involved and search for the facts in their decision making processes. The results from a pre- and post- assessment proved an amazing and significant change in the mindset of these students toward the environment and fertilizer."
Awareness
Since starting with the Nutrients for Life Foundation in 2009, Joan has presented at many regional teacher workshops. In front of teachers, Joan creates awareness about the fertilizer industry and offers the Foundation's free educational resources and materials. Joan commented about her experiences, "At these workshops and conferences, teachers get to learn about our virtual classroom videos and Nourishing the Planet in the 21st Century curriculum.  They are introduced to the Foundation's science based materials, videos, and activities.  Addressing these teachers allowed the Foundation's resources to reach approximately 30,000 students in Florida."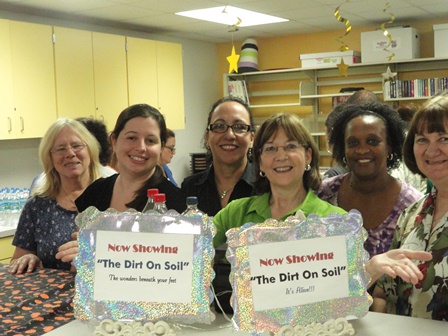 Helping Communities Grow
Another highlight of Joan's year was working with Florida FFA chapters. Joan had this to say about FFA: "The energy of the Florida FFA members is amazing! I always enjoy the Florida State FFA Convention in Orlando.  Addressing 190 FFA advisors at the Leadership Center in Haines City, I highlighted the Helping Communities Grow program and its 2012 winning projects.
Nutrients for Life Foundation | Capitol View | 425 Third Street SW . Suite 950 | Washington, DC 20024