Blue and Gold and the Future of Agriculture
November 06, 2012 | 3:11 pm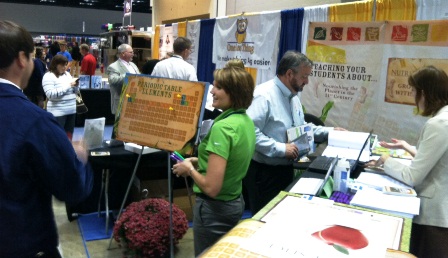 For 85 years, FFA members from across the nation gather for a national convention. This year 55,000 members and guests, including myself, attended the convention in Indianapolis, Indiana. Throughout downtown Indy, there was a sea of blue and gold corduroy jackets, excitement and adrenaline, as FFA members competed in career development events, received awards and motivated by the National FFA officers and speakers. It was easy to get swept up by the passion and energy of the convention.

This was my first convention since, 1998. I was glad to witness the abundance of youths who still believe in the "future of agriculture," words spoken by every FFA member in their creed. Every time we eat, that is agriculture. If we are going to continue to produce the safest and most abundant food supply for the world, we must persist in investing and educating our youth.
That is what we are doing here at the Nutrients for Life Foundation, investing in the future of agriculture. During the convention, we spoke to high school and middle school agricultural teachers about our Helping Growing Communities Program and provided them with our free soil science curriculum, Nourishing the Planet in the 21st Century, and educational resources. Often, they would say, "really, it's free?" In addition, we reassured them that our mission, in the foundation, is to provide them with science-based resources that would assist them in teaching the next generation about soil and crop nutrients. It was fun to be generous with our resources. Teachers were so very appreciative of the high quality free materials that our foundation has created for them and their students.
The FFA is a tremendous organization! I applaud the men and women who are called agriculture teachers and FFA advisors. They not only teach, they develop the overall character and life skills in each student. Not a simple task but a very worthy one.
I will end the blog by including the FFA motto. I witnessed the passion and enthusiasm of FFA members participating in the National FFA Convention. They certainly exhibited how they are living the FFA motto. Words that we can all take and apply to our lives.
FFA Motto
Learning to Do, Doing to Learn, Earning to Live, Living to Serve.
Nutrients for Life Foundation | Capitol View | 425 Third Street SW . Suite 950 | Washington, DC 20024