Third Grader Ag Day
September 21, 2012 | 11:09 am
What is the common link between a strawberry, a hamburger and an egg?
Any guesses?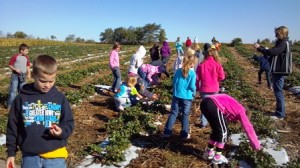 Clue #1: It's a natural resource.
Clue #2: It's the most important ingredient in feeding the world.
Clue #3: We walk on it.
If you guessed soil, you're as smart as a third grader.
Debra Kearney, Nutrients for Life Iowa Regional Representative, asked that very question to the 450 third graders visiting her family farm, during their countywide Ag Day event. The students rotated through stations and learned how hamburger, pork, eggs, soybeans, corn, milk, and strawberries are grown and produced. The common link to all of these food staples is soil.
While sitting on hay bales and looking over a strawberry field the third graders learned that plants need food (nutrients), just like the students need food to grow. Plants get their nutrients from the soil, in fact, plants need 17 different types of nutrients and all of those nutrients are found in the soil. Taking care of our soil keeps it healthy for growing plants, just like students need to eat healthy to grow big and strong.
After this short lesson, the third graders were allowed to pick two strawberries, wash them and then eat them. They were thrilled! Out of the 450 students in attendance, only a handful had ever picked strawberries before. They were chatting about how fun it was to pick their own strawberries and how they tasted so sweet.
Growing food is essential to our existence. Opening our farms to students and consumers creates a dialog about food production that is necessary to maintain the confidence that the food we are producing is safe and healthy to eat.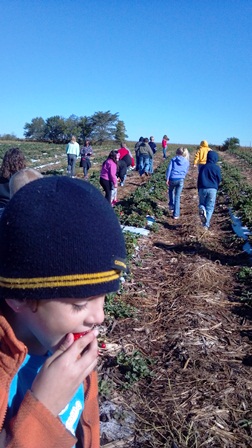 With strawberry stained fingers, the third graders left the farm having an experiential learning experience that showed how farmers are using the natural resource of soil in feeding the world healthy food like strawberries, hamburgers, and eggs.
Debra Kearney and our other regional representatives are available if you have any questions about the curriculum or have a workshop opportunity.  Debra provides educational, grassroots, and public awareness service in the state of Iowa. She is based in Knoxville, Iowa and can be reached via e-mail at dkearney@nutrientsforlife.org.
We also have regional representatives in California, Colorado, Florida, Idaho, and Illinois.  Click here to contact a regional representative in your area!
Nutrients for Life Foundation | Capitol View | 425 Third Street SW . Suite 950 | Washington, DC 20024