Seed Survivor
September 26, 2012 | 1:09 pm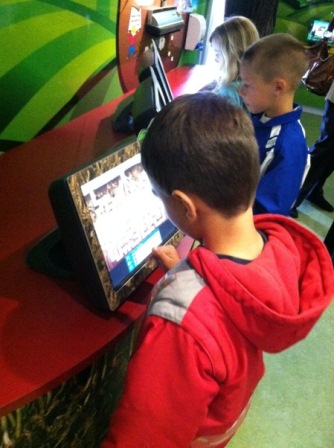 Learning is fun when it's disguised as a game!
"You rock!"
"Awesome!"
"Disneyland on Wheels"
These were just a few of the many accolades received from Northern Colorado's second through fifth grade elementary students as they were experiencing Agrium's Seed Survivor mobile display.
Nutrients for Life's own Jerry Alldredge assisted in presentations with Agrium's Seed Survivor mobile display this past spring. Agrium's Seed Survivor mobile display is a free curriculum-based plant nutrient classroom on wheels that can be scheduled and pre-registered to visit schools and events April – June of 2013 for grades 1 through 6 (best for grades 2 through 4). The interactive stations encourage children to learn exactly where their food is produced and to master the elements that plants need to grow. Six stations focus on water, light, soil, nutrients, and growth. Students explore multi-media and virtual reality games, like talking walls and a sunflower seed planting station, but most importantly, students leave with a new appreciation on what is necessary to grow healthy plants.
Agrium collaborated with the Colorado Foundation for Agriculture to perform the host tasks of providing trained staff to operate the educational interactive display and to promote this program to schools and other agriculture educational organizations in the state of Colorado. Take a look at the 35-foot long trailer and more details of the program at www.growingthenextgeneration.com (click on the right side of the page in the Seed Survivor box).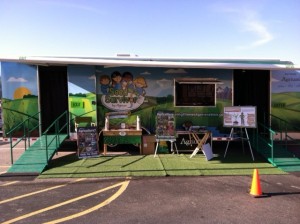 The local host and staff were able to book ten elementary schools in Gilcrest, Windsor, Milliken, Fort Collins, Loveland and Greeley, two water festivals in Fort Collins and Longmont, three educational farms and ranches, Colorado State FFA Convention, one Fort Collins Garden Tour, and the National Ag in the Classroom Convention held in Loveland, Colorado. Lindsey Metheral, Seed Survivor Program Coordinator in Canada and the U.S., said, "The student and teacher feedback was excellent. From the presentation to the games they all loved their time at Seed Survivor in Colorado." Over 1,600 elementary students visited the Seed Survivor trailer. Furthermore, an open house at Agrium's Crop Protection Services headquarters in Loveland, CO, had over 100 attendees and the Colorado FFA Convention in Pueblo, CO attracted over 250 high school students and advisors. Over 185 Ag in the Classroom educators and teachers throughout the nation were also introduced to the Seed Survivor educational program and 325 fourth and fifth graders passed through the mobile unit during Fort Collin's and Longmont's Water Festivals.
Jerry Alldredge provides educational, grassroots, and public awareness services in the state of Colorado. He is based in Windsor, Colorado and can be reached via e-mail at jalldredge@nutrientsforlife.org or by phone (202)384-4865.
Nutrients for Life Foundation | Capitol View | 425 Third Street SW . Suite 950 | Washington, DC 20024