Helping Communities Grow Spotlight: Norco FFA
August 17, 2012 | 4:08 pm
Written by Emily Stubbs
Attention FFA advisors and students: Your chapter could win up to $5,000 through the Nutrients for Life Foundation's Helping Communities Grow chapter program.
Congratulations to Norco FFA for winning first prize in California in the 2011-2012 Helping Communities Grow Chapter Recognition Program!  The primary goal of their project was to create agricultural literacy in their community through elementary school field trips and gardening workshops.  The Norco FFA members planned "Pumpkin Days," a set of field trips and workshops attended by 873 students.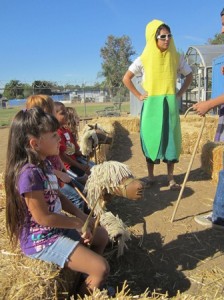 During Pumpkin Days, students went from station to station, guided by FFA members, to learn concepts such as why worms are the great composters, how to make ice cream, the stages of a chicken's life, and how pumpkins are grown.  By involving the elementary students, approximately 1,000 community members, and organizations such as the Norco Lion's Club, their events were a huge success.  Norco FFA members have already begun revising their program to include more in depth in the lessons and are exploring ways to reach adults in the community.  Congratulations, Norco FFA, on a job well done!
Read more about our first place winners of the Helping Communities Grow program:
FFA Winners in the Helping Communities Grow program
To find out more information or download the application, visit http://www.nutrientsforlife.org/students/helping-grow.
Nutrients for Life Foundation | Capitol View | 425 Third Street SW . Suite 950 | Washington, DC 20024