An Agriculture Snapshot: Sweet Corn Harvest
July 25, 2012 | 1:07 pm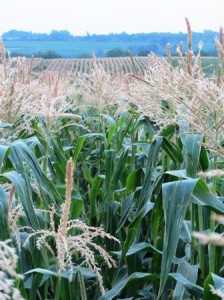 All across the United States, farmers rise with the sun, walk out the door, and into their business. I was home visiting my dad, when I had the opportunity to "rise with the sun" to pick a day's worth of sweet corn. Once a farmer's daughter, always a farmer's daughter. I was happy help…with camera in hand. We were in the machine shed by 5:00 AM to do the morning chores and to get everything ready before the corn picking crew arrived at 5:30.
This particular day, there were several orders to fill and we had to pick 600 dozen ears (that's 7,200 ears). Dad prefers to pick his corn fresh every day and by hand. He markets his produce at a roadside stand, as well as, a few grocery stores.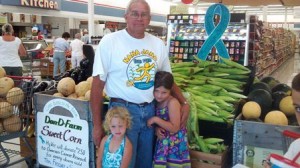 We enter the field and each picker picks a row and pulls the sweet corn ear off the stalk. It takes a little practice, but in one motion, you pull down and snap the ear right off. Most corn stalks have two ears, although the second ear is not usually as ripe or as complete.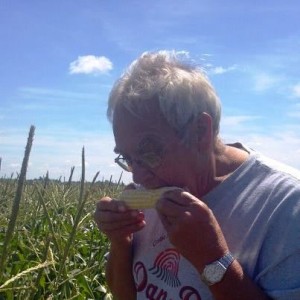 Quality control occurs in the field as you are picking. Pickers must know by sight and touch, whether an ear is ready to be harvested. If not, pickers leave it in the field. Often, you will see Dad or one of the crewmembers eating the raw corn right out in the field; it is so sweet that it could be marketed as candy rather than a veggie.
Pickers pull the ear off the stalk with one hand and then transfer it into the other arm. Once you have a full armload, the corn is unloaded into the bucket of the tractor. I am proud to say, I was a little out of practice but kept up with the corn picking crew. On any given day, the corn picking crew consists of about five people, ranging in age from 16-62, who are getting "field" experience in picking corn. They are a hardworking, funny group with which to spend a morning.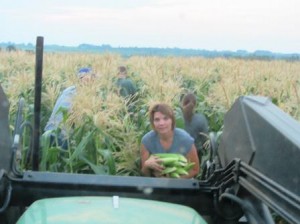 A full bucket (about 50 dozen) is dumped into the back of a flatbed trailer. When the trailer is full and the patch is picked, we load and deliver the sweet corn. Fresh and ready for consumption!
Farming continues to be laborious. This blog post is only one portion of the sweet corn growing process. Prior to harvest, Dad had to prepare the land, purchase and plant the seed, supply the plants with crop nutrients, control the weeds and insects, and pray for rain. I challenge anyone to keep up with my Dad during sweet corn season; not many businesspersons work harder and longer than a farmer does.
I know this because my family remains in the farming business. There was a time, when most Americans were involved in farming or had an understanding for how food was produced. These days, less than one percent of our population farms. This has created an education gap. As a consumer, you are responsible for knowing how your food is produced. I highly encourage you to get your knowledge from the farmers producing the food, not from movies, television, and pop culture. Farmers, like my dad are passionate, educated, and willing to share their farms with you, although, you may have to join his picking crew to get the full experience of the business.
Enjoy eating sweet corn as much as we do at my house? Check out my blog post on freezing sweet corn for all year around: http://blog.nutrientsforlife.org/2011/09/how-to-freeze-sweet-corn/
Want to read more about my father's farm and his sweet corn? Check out this blog post: http://blog.nutrientsforlife.org/2010/08/sweet-corn/
Nutrients for Life Foundation | Capitol View | 425 Third Street SW . Suite 950 | Washington, DC 20024