McDonald's Restaurants Recognize Farmers
January 05, 2012 | 1:01 pm
Go ahead and judge me…we eat McDonald's…often. I know, I know! I have to give the mega franchise credit for being convenient and affordable. You know the scene, we are running errands, and the whines from the backseat are getting louder. The cries for "food break, mom" so she pulls under the golden arches. I know I am not the only mom swinging in the drive thru for a quick meal, because they sell approximately 4.2 million hamburgers a day (yep, a day) in the United States. That's a lot of beef! However, my favorite McDonald's indulgence is the french fry. McDonald's restaurants report that they buy 3.42 billion pounds of potatoes each year. Hmm, looks like I am in good company and not the only one craving their french fry.  My point: McDonald's is a large consumer of American agriculture.

McDonald's has recently released three commercials highlighting real American farmers who are producing the raw ingredients (beef, lettuce and potatoes) for their menu. As an advocate for agriculture and the fertilizer industry, I am glad they have put a face to their food. As consumers, we want to know where our food comes from and how it is produced. Potato farmer, Frank Martinez, talks about his potato farm, "It starts from the seed, the soil, climate, and water. If you grow the best potatoes, you're going to have the best french fries. When you make something with pride you can taste it."  Mr. Martinez did not talk about the fertility of his soil, but all farmers would tell you that he could not raise one-thousand acres of potatoes year after year without replenishing the nutrients.
The videos allow you to meet the hard working passionate farmers behind your McDonald's favorites. Very few Americans know how their food is produced, except through the media, which has not always portrayed the agriculture industry fairly. If I were still teaching in the classroom, I would use these videos to highlight farming careers and give my students an opportunity to see how farmers are taking care of the land, while producing some of their favorite foods. Very few field trips are allowed these days, if you are unable to bring students to the farm, bring the farm to the classroom through these the short videos.
I have to admit, after watching the videos; I was craving a french fry.
McDonald's Potato Supplier, Frank Martinez: "Dream Come True"
Growing perfect potatoes takes the right amount of water, rich soil and, in Frank's case, a lifetime of experience.
McDonald's Beef Supplier, Steve Foglesong: "Raising Cattle and a Family"
Three generations of Foglesongs work together every day to raise the kind of high quality beef that make some of the most iconic hamburgers in the world.
McDonald's Lettuce Supplier, Dirk Giannini: "Field to Fork"
Growing fresh, high-quality lettuce is more than a job. For Dirk Giannini, it's a family tradition.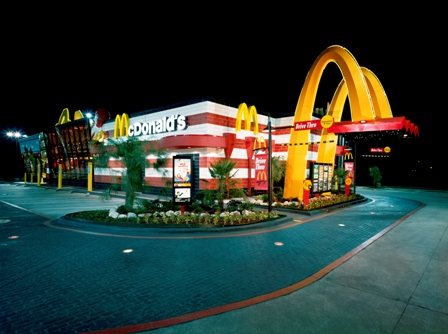 Exterior shot of a McDonald's in Dallas, Texas shaped like a Happy Meal box.
Images courtesy of McDonald's Image & Video Library
Nutrients for Life Foundation | Capitol View | 425 Third Street SW . Suite 950 | Washington, DC 20024