Nutrients for Life Team Connects with Teachers at NSTA Conference
November 17, 2011 | 1:11 pm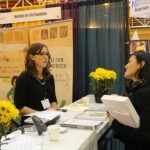 Kids are curious! I took my five-year-old with me to run a few errands. In less than three hours, she asked me approximately 851 questions. Of course, I had to answer every single one of them. Eight-hundred and fifty-one may be a bit of an exaggeration but if you have spent any time with a curious kid, you know how exhausting it can be.
Thankfully, there are talented teachers who pick up where mom left off and continue to answer the curious kid's questions. My colleague, Julie Buratowski, met several of these talented teachers at the National Science Teachers Association regional conference in New Orleans.  I asked Julie to join this blog and share her experience with us.
"I love attending NSTA's Conferences; they provide science teachers with the perfect blend of new approaches to teaching, innovative classroom activities, and a network of devoted professionals.  As an educational specialist, I always look forward to "talking shop" about the ever-changing world of education with the teachers that attend.  So naturally, I was so excited to be a part of NSTA's Regional Conference in New Orleans, Louisiana this last week alongside Joan Kyle, Nutrients for Life's Florida state representative, and Calli Skipper, Community Affairs Specialist from CF Industries.  Our unstoppable team of three provided complimentary copies of our Smithsonian-reviewed soil science curriculum, Nourishing the Planet in the 21st Century, and corresponding supplemental materials to educators.  The theme for the NSTA Conference was "Science: Eye on our Future," which aligned well with our message that by 2050, our world's population will top nine billion people.  If we are going to feed the world, we must take care of our farmable land and keep it nutrient rich.  Teachers were delighted to have access to hands-on lessons in soil-science; many remarked that while there are plenty of plant science activities and lessons available, there is a definite 'hole' in soil-science curricula.   Moreover, we had some great conversations with educators on how to improve student understanding of the role plant nutrients have on the environment, crops, food and people's health.  Thanks to all of the educators that dropped by — We cannot wait to meet even more enthusiastic science teachers at NSTA's Regional Conference in Seattle in December!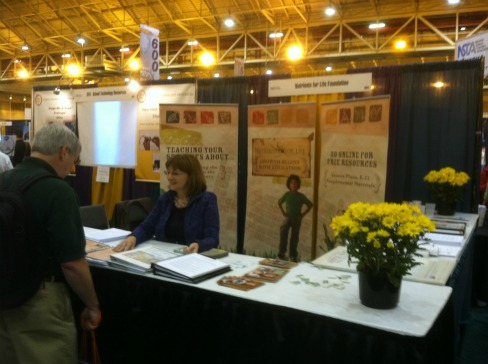 Nutrients for Life Foundation | Capitol View | 425 Third Street SW . Suite 950 | Washington, DC 20024