National Association of Farm Broadcasting Convention
November 11, 2011 | 4:11 pm
CHS, the largest agricultural cooperative, invited me to attend the 68th annual National Association of Farm Broadcasting Convention in Kansas City. I am intrigued by this specialized group of broadcasting professionals; they have big voices and a passion for agriculture. As a child, I was exposed to the industry from the speakers in my dad's ole' blue Chevy farm truck. (Which I rode shot gun with no seatbelt. How did we ever survive?) The radio was always on AM and tuned to the Big Show on Newsradio 1040 WHO. We would hear the up-to-the-minute agricultural market reports and farm news. And to think now I am rubbing elbows with these  radio voices.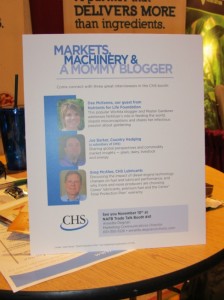 During the convention, farm broadcasters interview guests that were invited by agricultural businesses. Broadcasters, therefore, have a room full of potential interviewers, just waiting for them to present their microphones for an interview, and I was one of them. For most broadcasters, it was the first time they had ever interviewed a mommy blogger. We talked about gardening with my children and teaching them first hand where their food comes from: the soil.  We discussed how gardeners are farmers on a small scale and when a gardener learns about food production, they are able to relate to farmers who are planting and harvesting our nation's food supply. During the interviews, I also talked about the importance of fertilizer. Up to sixty percent of our food supply is a direct result of farmers using fertilizer. Without fertilizer, we could not produce enough food to feed the current population of seven billion people.
I was so grateful for each broadcaster that asked for my interview. These men and women are such talented professionals, and they get right to the point and dig into the issues that are relevant and useful for farming communities. I hope that their audiences will hear how Nutrients for Life believes in the future of agriculture and how we stand behind these men and women who toil over the land to produce an abundant and safe food supply for our nation.
I want to thank CHS for inviting me to the convention and supporting this mommy blogger and the Nutrients for Life foundation.
To this day, I look forward to hearing the voices and passion from the people behind the microphones, broadcasting the farm market reports…it brings me back to riding in ole' blue with the farmer I call Dad.
Nutrients for Life Foundation | Capitol View | 425 Third Street SW . Suite 950 | Washington, DC 20024