Gardening: You Reap What You Sow!
September 29, 2011 | 1:09 pm
Between potty training, laundry (which I have decided breeds and multiplies in the laundry basket), and answering the dreaded "I'm hungry" plea, I have little time to keep up with current events. Thankfully, I have direct access to the computer and subscribe to my favorite newspapers, magazines, and blogs. I don't get to read all of them, but if I do find a moment of silence, I am a click away from being caught up.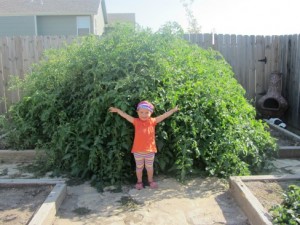 Today, as I was catching up, an article caught my attention. I had just confessed to a friend how far behind I was in yard work and gardening. When shortly after, I read the following; written by the president of Harris Seeds, Dick Chamberlin:
"Gardening, like most other things in life, requires a fair amount of effort to reap its rewards. It is easy to plant in the spring and walk away, but as the experienced gardener is well aware, this minimal effort won't cut the mustard – or the weeds.
Traditional flower and vegetable gardening requires attention to soil health, proper fertilization, and constant weeding. Container gardens also require maintenance, as planters tend to dry out more quickly than beds and can lose fertility quickly with regular watering. But gardeners who make the effort to maintain their plots and pots are rewarded with glorious flower blooms throughout the season and bountiful vegetable harvests."
It went on to say that gardening is a hobby, and the more you put into the hobby, the more you will benefit. I agree whole heartedly. When I have labored for the season and have a bountiful harvest, I feel rewarded and good about what I have done. With the start of school and the schedule that it brings, I have neglected the yard and garden. Consequently, I am disappointed in their current condition.
With renewed focus, I summoned the girls to the garden. From the picture, you can see how the tomato plants have taken a life of their own. They are huge!  Underneath these overgrown veggies are a few pepper plants. I held the tomato plants back and had the girls reach under and harvest the peppers! It took team work, but we got it done. A little sweat and effort were worth their weight in peppers! I have to mention: my youngest daughter is going through a fashion phase and insists on wearing head bands! Thus, she stands out amongst the giant tomatoes!
Summer is gone and fall has arrived. As you schedule your day, don't forget that fresh air is good for you and there is always something to be done in the garden…even it if means missing out on current events.
Nutrients for Life Foundation | Capitol View | 425 Third Street SW . Suite 950 | Washington, DC 20024