Fun with the family at the Iowa State Fair
August 17, 2011 | 10:08 pm
I consider it a great privilege to have always been able to end my summers by attending the Iowa State Fair. It certainly was a highlight of my childhood. Where else can you see the Big Boar, the Big Ram, the Super Bull, and the Butter Cow?  Let me tell you, they are each big and impressive!
This year, we were back in Iowa visiting family during the Iowa State Fair. Of course, I wanted my children to experience this great event. It is included in the New York Times best-selling travel book 1000 Places to See Before You Die. Each year the state fair entertains over a million visitors. Unfortunately, my extended family had work commitments and was not able to go with us. No big deal, I tote around three little girls by myself all of the time.  Well, what was I thinking! The fair sits on 445 acres! The girls had a great time, however it wasn't without complaint! It was hot and we did a lot of walking. We didn't cover all 445 acres but we hit my favorite spots: the lemonade stand by the swine barn, the avenue of breeds, the agricultural building that has a beautiful garden, the butter cow, the Bill Riley talent stage, the giant slide, the fried cheese curds concession, and the salt water taffy stand.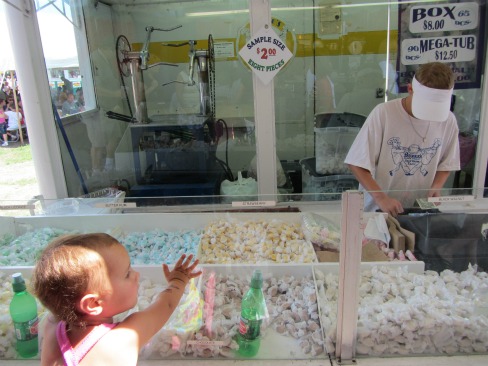 We also had a new experience sponsored by the Egg Council. They were handing out hard boiled eggs on a stick!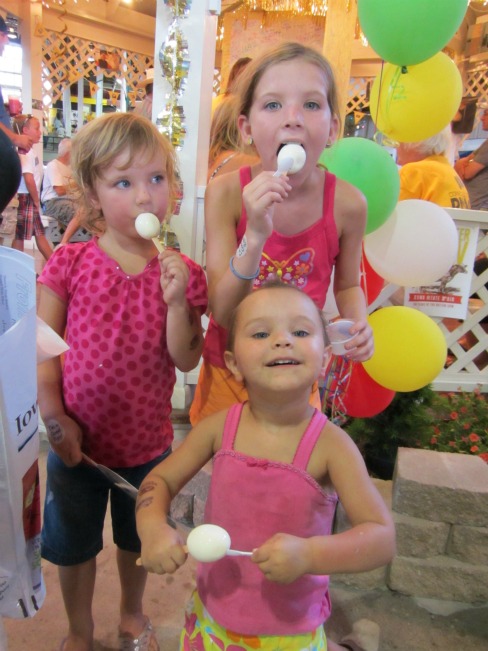 Yep, that's what makes a fair unique! You never know what you might find.
To our surprise, we found Sarah Palin in the cattle barn. She was shaking hands with exhibitors and we happened to be there viewing the Super Bull with some of my college friends we had met up with. Regardless of your political views, she is rather famous and I was happy to meet her. We also ran into the 2010 State Fair Queen, Lacey Stevenson. Lacey's parents farm just down the gravel road from where I grew up (and a gal I used to babysit)! Proud to say she is the product of a hard working farm family.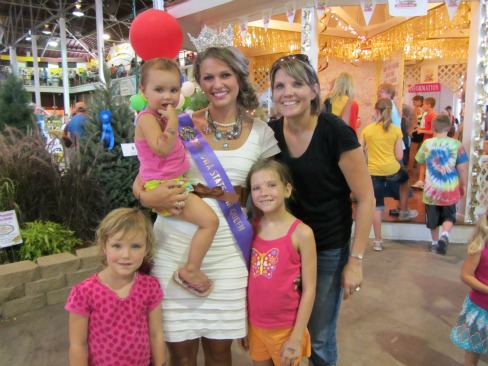 State Fairs are part of the American culture. Originally they were organized for families to show off their best livestock, largest produce, apple pies, canned goods, and other vocational and crafting skills.  These things are still show cased at fairs across the country but you can also see a rock concert, gorge on fried foods, spin on carnival rides, watch a rodeo, and learn from industry booths. I fully appreciate the display of agriculture throughout the fair grounds. It's a reminder of how large and influential agriculture is to our economy and food supply.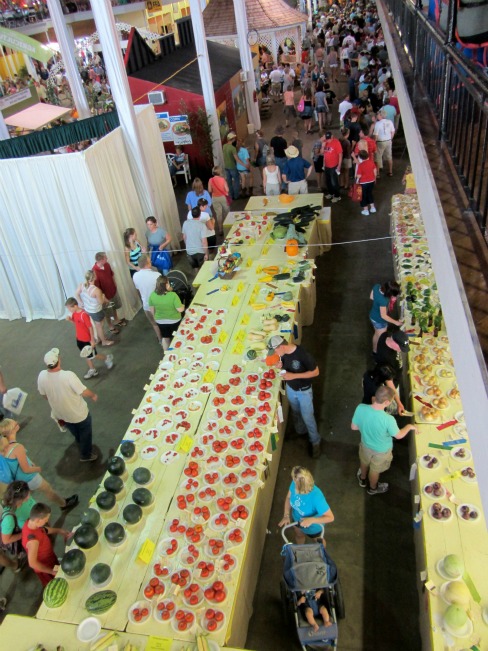 Even though it was a long day for their little legs, my girls loaded into the mini-van sticky, dirty, and happy!  If your state fair isn't a part of your annual family events, consider starting the tradition. Who knows, you may run into a famous politician or be inspired to sculpt a butter cow.
Nutrients for Life Foundation | Capitol View | 425 Third Street SW . Suite 950 | Washington, DC 20024