Unplug and let your kids experience nature
July 27, 2011 | 4:07 pm
When the TV is on, my girls are motionless and non-responsive. Confession, I need a little peace in my day so I like them comatose for about 30 minutes a day. Just 30 minutes, that's all I need! Despite weeks of brutal heat, we have continued to spend time outside. Lubed up with sun screen, we water and weed the garden, and go swimming. That's about all we can handle; the rest of our time is spent enjoying the benefits of our over-worked, but not underappreciated, air conditioner.
Our local Botanical Garden recently opened a Children's Garden. I have heard rave reviews but hadn't had the opportunity to go. My girls needed to get out of the house and into this new garden destination. As I announced our plans for the day, my nine-year-old homebody laminated about the heat and her strong desire to stay home.  I held firm and didn't give into her desires, despite the sweat dripping down my face and back from the heat.  On our twenty-five minute drive, the girls were loud, argumentative, and down-right grumpy! However, once we unloaded and entered the Botanic Gardens their mood instantly changed. They were running, laughing, exploring, getting wet, and learning- despite the radiant heat.
As a parent, it is so tempting to let TV, video games, or the computer be the greatest source of entertainment (guilty!). Unfortunately, when we do this, we are depriving them of nature. Along with the introduction of new media and technology, our children are spending less time exploring and bonding with nature.  Richard Louv, author of Last Child in the Woods: Saving Our Children from Nature-Deficit Disorder, found enough evidence to proclaim that there are children who suffer from a nature-deficit disorder. This is not a true medical diagnosis; he coined the name to draw attention to this epidemic. He said, "The human costs of alienation from nature, among them: diminished use of the senses, attention difficulties, and higher rates of physical and emotional illnesses. For a new generation, nature is more abstraction than reality. Increasingly, nature is something to watch, to consume, to wear — to ignore." I know that this is probably extreme thinking but there is certainly some truth to it. I find myself saying things like, "When I was a kid we had three stations and our phone was connected to the wall. We played outside all day, even when it was hot!"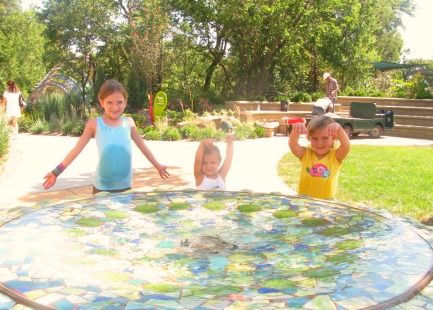 Today, I'm grateful for the memories we created because we unplugged. We observed butterflies, splashed in the pond, watered a garden, pumped water, skipped up the hill, banged on an outdoor drum, painted with water, climbed a tree house, ran through misters, looked for garden fairies, and bonded with nature.
Of course, I can't visit a garden without cornering an employee for information. I found the unsuspecting green thumb sitting along the trail pulling weeds.  Since this is a new garden, I asked how they are keeping everything alive. She reminded me that it was not the perfect summer for planting large trees and shrubs. The heat had been brutal on these large transplants as their roots are yet to be established. She assured me that they have great irrigation systems that thus far have kept most everything alive. They have lost a few plants, but that is to be expected. To keep the roots stimulated and growing they are using a 20-20-20 liquid fertilizer every Friday. Those numbers mean 20 percent nitrogen, 20 percent phosphorus, and 20 person potassium (NPK!) She emphasized that they are fertilizing every plant in the garden every week, hoping this new botanic area will provide decades of memories, habitat, and inspiration.
The garden was amazing, exceeding my expectations! Even my nine-year-old was asking when we could return, making this mom smile and gloat a bit. I knew she would love it! It stimulated more emotion and education than the TV show she wanted to stay home and watch.  In this age, technology will always compete for my girls' attention. Tell me, how do you get your kids/grandkids out in nature? Do you agree with Richard Louv? Are our children suffering from a nature deficient disorder? If so, visiting a botanical garden just might be the cure!
Nutrients for Life Foundation | Capitol View | 425 Third Street SW . Suite 950 | Washington, DC 20024