Seed, Seeds Everywhere!
March 31, 2011 | 2:03 pm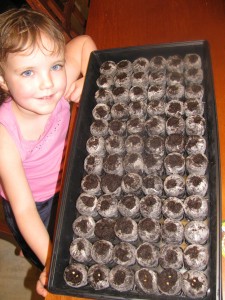 I like to get a head start to the garden season by starting some seeds indoors. To the girls, it's like a craft project but with dirt instead of glue. With four year old dexterity, my daughter opened the package of basil seed and inadvertently scattered the tiny black seeds all over our work space. It is very hard to find black seeds on black soil. This job would be much easier and less stressful if I could just do it myself, then again, what fun would that be?
It wasn't long ago when all gardeners (not just master gardeners) started their seeds indoors or sowed them directly into the garden. Garden centers have taken advantage of our busy lifestyles and desire for instant gratification and filled their greenhouses with gorgeous, hard-to-resist plants.
Those same garden centers sell seed and seed starting kits. I bought seven packets of seed and one mini dome for less than $18. The mini dome contained the peat pellets and instructions to get started. It's fairly simple and really fun (wink wink) to do with your kids.
My thrifty friends would want me to mention that you don't have to buy the kits. There are items in your recycle bin that can be repurposed into "seed germinating containers." Paper cups, egg cartons, cut off plastic jugs and pop bottles. Holes should be made in the bottom of the containers to allow for drainage.
Whatever method you choose for starting seeds, here are a few tips to help you obtain success:
Sow seeds about eight weeks before planting outdoors.
Follow the planting instructions on the seed packet and/or the seed starter kit.
Label the pots with the seed variety planted in them.
Keep the soil media moist.
Place in a warm sunny spot. Keeping the seeds warm will encourage germination.
Cover the container with some sort of dome or plastic.
Once plants begin to sprout, take the cover off.
When true leaves have sprouted, you can add a diluted amount of fertilizer once a week. Seed starting soil mixes will have small amounts of nutrients in them.
Before planting in the garden, allow plants to be hardened off (which means, get them used to the environment outside; i.e.: wind and sun). Put them outside during the day and back inside at night for about three days.
After you sow your seeds, come back and tell of your seed sowing experience. Use words such as: success, failure, messy, fun, anticipation, etc. And, imagine all the black seeds you can search for in black soil!
Nutrients for Life Foundation | Capitol View | 425 Third Street SW . Suite 950 | Washington, DC 20024