National Ag in the Classroom Conference
July 02, 2010 | 7:07 am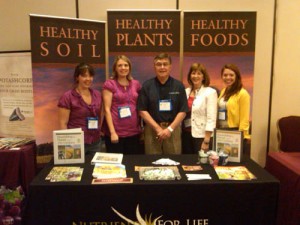 The Nutrients for Life Foundation team had the opportunity to attend the National Ag in the Classroom Conference last week in Baltimore. What a great experience!
It was great seeing so many educators working together to find fun ways to incorporate agriculture into classrooms of all ages!  
We spent the day talking with educators from all over the country about Nutrients for Life Foundation. We got to catch up with lots of people who use our classroom plant and soil science curriculum, and we met new people who can't wait to implement the curriculum when school starts again this fall.
When we weren't manning the booth in the exhibit hall, we were sitting in on the conference seminars. From "Including Commodities in Your AITC Sessions" to "The Garden- a Living Laboratory," we learned a lot about how educators think.
And as always, what an honor to be invited back this year to participate in such a wonderful conference.
If you still have more questions about Nutrients for Life Foundation, feel free to visit www.nutrientsforlife.org or call us at (800) 962-9065.
Nutrients for Life Foundation | Capitol View | 425 Third Street SW . Suite 950 | Washington, DC 20024