Fuzzy Fruits
July 16, 2010 | 7:07 am
On my kitchen table sits about 10 bushels (50 pounds) of white fuzzy peaches.  A member of our church, Michael, invited us out to pick peaches from his tree. Free peaches, whoo hoo! I invited my friend Staci and her son to share in our peach picking experience. It was a 45 minute drive and life is more fun when you can share it with a friend. Thankfully, she was able to come with me as my one year old insisted on being held the entire time we picked peaches.  I was the one-armed picker and not very efficient. Thankfully, Staci and the kids were able to pick the majority of the peaches because I was no help!
I strive to provide hands-on opportunities for my kids. Picking peaches can be fun, but also hard work. Involving your children in gardening and harvesting will give them the chance to learn the value of delayed gratification and working toward a tangible goal.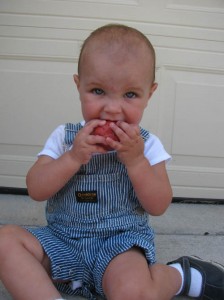 I quickly quizzed our gardening friend Michael on how he cares for his peach tree. He regularly fertilizes his lawn and feels that it is adequate fertilizer for his tree. Michael joked about not wanting to eat worms, so he regularly sprays to prevent wormy peaches. He also prunes in the spring after the tree has bloomed.
My girls delivered peaches to our friends and neighbors! They love sharing the fruits of their labor. 
Peaches are full of Vitamin A, potassium and dietary fiber and are a summer time staple for my family. I feel I'm feeding them right when I provide fresh fruit. If we don't eat all of the peaches I will freeze them…when everyone is in bed and I'm in the kitchen without little ones under my feet.
Nutrients for Life Foundation | Capitol View | 425 Third Street SW . Suite 950 | Washington, DC 20024