Third Time's A Charm
May 26, 2010 | 6:05 am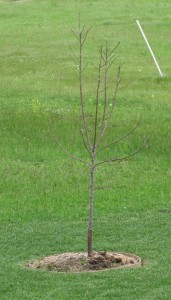 Let me begin this week's blog with a big Thank You! Many of you are leaving comments. It's refreshing to hear your perspective and to know you are reading and enjoying the Nutrients for Life blog.
I have such fond childhood memories of climbing our cherry tree and eating cherries. They were sun warm and oh so yummy. As a mom, I want my girls to have that same experience! When we bought our home, my dedication to purchasing, planting, watering, fertilizing and harvesting cherries from our very own cherry tree had begun. I did the research; I wanted a self pollinating sweet cherry.
My first victim was a Stella cherry tree. The tree was thriving and doing great. Until, I had a brilliant idea to move it to another spot (aren't we allowed to change our mind?). Not so brilliant, I killed it. The second victim was a Lapins cherry tree. We planted it last fall and I held out all spring, hoping it would bud out and bloom. Nope, disappointment again! I blame it on the long strange winter we had, certainly not my neglect.
Reality! I have now killed two cherry trees! I am here to testify that even a green thumb kills the strongest of specimens every now and then. If everything I planted lived, I wouldn't have to purchase any new plants. What fun would that be? For beginning gardeners, there is hope! Roll up your sleeves and get started, learn from your mistakes and try again.
Third time's a charm and we will try again. My girls will pick cherries this summer but it will be at the local orchard instead of our backyard. Surely, I am not the only one to have killed a favorite plant or tree? Tell me your story; what have you struggled growing?
Nutrients for Life Foundation | Capitol View | 425 Third Street SW . Suite 950 | Washington, DC 20024