Nutrients are an important part of our lives.
See how they help feed the world and keep the Earth green through activities such as gardening.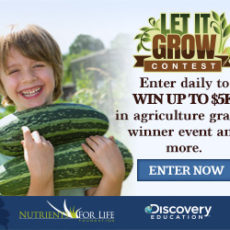 October 03, 2016 | 10:10 am
Discovery Education and the Nutrients for Life Foundation have joined forces again to give six lucky schools a chance to win big with the second annual Let It Grow Contest from the partnership program,  From the Ground Up:The Science of Soil. Open to educators and community adults nationwide, the Let It Grow Contest encourages entrants to vote DAILY […]
Recent Posts
July 05, 2016 | 8:07 am
There were many outstanding applications in our Helping Communities Grow program with 100 total participating FFA chapters across 17 states reaching over 600,000 community members. The program challenged FFA chapters to investigate and discover the critical role fertilizer plays in improving plant health for an abundant, affordable, and safe food supply.

June 22, 2016 | 8:06 am
We often forget about fertilizing and wonder why we didn't get as much produce as expected. Over-applying fertilizer can cause as much heartache as under-applying. To be sure you're applying the right amount, follow label directions and use the 4R's of nutrient stewardship.

June 16, 2016 | 7:06 am
Through our partnership with Discovery Education, Nutrients for Life launched the Let It Grow Contest this spring. This first-annual contest awards more than $10,000 in prizes to six middle schools nationwide as part of From the Ground Up: The Science of Soil, an education initiative that offers middle school students a deeper understanding of the importance of soil science. Educators, parents, and community members were invited to enter the Let It Grow Contest by answering soil-related questions and voting daily for a middle school of their choice.

May 31, 2016 | 12:05 pm
There's something so rewarding about working in an industry that provides food to the world's population! Who knew agriculture could be full of endless opportunities to learn, to grow, and to be an important contributor to the world's food supply?

May 20, 2016 | 10:05 am
Today is Pick Strawberries Day! Have you and your family been out to pick these delicious berries right off the plant yet this spring?

May 17, 2016 | 7:05 am
I finally got to my happy place, the garden! I have been dealing with a bit of garden guilt! The seed packets, transplants, fertilizer and hoe have been sitting at the garage door calling me to be planted and used. It felt great to dig, plant, and water. The garden is only half way planted […]
May 03, 2016 | 7:05 am
Turn your classroom into a virtual lab with these six interactive lesson plans designed to engage varied learners, enhance digital literacy, and increase overall retention of core concepts. Nutrients for Life Foundation is proud to provide ready-to-go slide decks, called Interactive Lesson Plans, for teachers. Each lesson corresponds to the Foundation's Nourishing the Planet in the 21st Century elementary curriculum.
April 18, 2016 | 8:04 am
Dig into the Earth on Earth day. Less than 3% of the entire Earth's surface is ideal for growing our food. So why not, dig in and experience it.

April 06, 2016 | 8:04 am
"We are thrilled to offer this resource at a time of world environmental awareness and unparalleled technological advancements that support responsible fertilizer use," says Nutrients for Life Foundation Executive Director Harriet Wegmeyer.

March 15, 2016 | 6:03 am
I believe every school should have a garden. Think back to your education; what do you remember? What teacher had an impact? I bet those memories are tied to an activity or teacher who brought innovation and experiential learning to the classroom.
Request
Materials
Educate students about the important role soil nutrients play in feeding our world!
Learn more about the science of soil and crop nutrients with Nourishing the Planet in the 21st Century curriculum and other education resources!
Nutrients for Life Foundation | Capitol View | 425 Third Street SW . Suite 950 | Washington, DC 20024