Nutrients are an important part of our lives.
See how they help feed the world and keep the Earth green through activities such as gardening.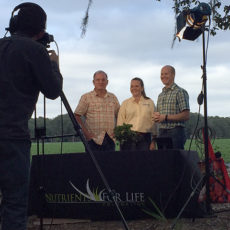 January 11, 2016 | 7:01 am
We had such a great time creating this event we thought we'd give you a quick look behind the scenes…
Recent Posts

November 03, 2015 | 12:11 pm
The 2015 National FFA Convention & Expo was held in Louisville, KY on October 28 – October 31, 2015. A record breaking 64,409 FFA members and registered guests attended the annual meeting.

October 27, 2015 | 8:10 am
Harvest here in Northwest Iowa will wrap up soon. Lush green fields have been replaced with brown stubble. I enjoy watching the combines roll over the fields and grain dust fill the air. I often pause and reflect that harvest, whether it in a field or a garden, is the result of hard work and yields food for all of us.
September 01, 2015 | 9:09 am
There is a worn path in the grass that leads from the garden to the kitchen. After months of hard work, I am met with the excitement of enough vegetables to preserve; green beans to can, sweet corn to freeze, and cucumbers to pickle… you get the idea!
August 18, 2015 | 2:08 pm
Grandma's Kook-Kwick Pressure Cooker manual was handed down to me. The manual is most likely from the 1950's and tells me that a properly filled pantry is the result of careful planning in advance.

August 05, 2015 | 2:08 pm
It was a root and tuber kind of weekend; we pulled carrots and dug potatoes. The harvest makes me thankful for the hours of sweat I put into keeping the weeds out and the soil fertile. August finds me in the kitchen preserving produce from the garden. It makes for some long days but it is well worth it!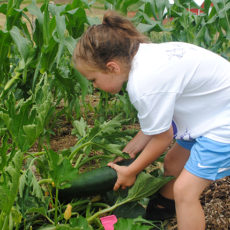 July 22, 2015 | 11:07 am
It's mid-July, how is your garden looking? Healthy, buggy, brown, yellow, weedy: these words describe different areas of my garden all while I am waiting, oh so patiently, for the tomatoes to turn red. While I wait, there are other veggies ready to be harvested!

July 02, 2015 | 11:07 am
It's July! The garden is starting to burst! July meals will be full of freshness and flavor.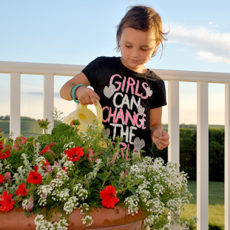 June 16, 2015 | 10:06 am
Potted plants bring color to the deck or front door step. To keep them blooming and growing fertilizer is key. That's how the grower got them so gorgeous and eye catching!

June 01, 2015 | 8:06 am
There is lots of gardening to do in June! The garden is growing and so are the weeds! Check out my garden help; don't let the photo fool you. They were in the garden for less than fifteen minutes. I'll take what I can get.

May 18, 2015 | 9:05 am
It's all about curb appeal. I spend hours every spring sprucing up our landscape and flower beds for a summer of knock out color and attraction. If you want curb appeal the secret is timely fertilizer application.
October 31, 2013 | 3:47pm
Ms. Meggers is an avid gardener and overall soil enthusiast! She teaches seventh and eighth grade at Interstate 35 Secondary in Madison County, Iowa where she and fellow teacher, Hannah Ludwig, created a beautiful school garden. Ms. Meggers also teaches soil science in the classroom with Nutrients for Life materials. Read on to find out why one of the Foundation games is her favorite resource to get kids to "dig it!"
Nutrients for Life Foundation | Capitol View | 425 Third Street SW . Suite 950 | Washington, DC 20024