Nutrients are an important part of our lives.
See how they help feed the world and keep the Earth green through activities such as gardening.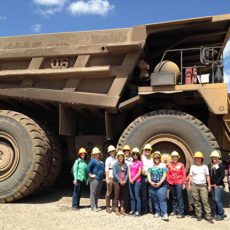 July 28, 2014 | 8:07 am
With beautiful mountain ranges as a backdrop, eight educators from around the country recently convened at the Simplot Smoky Canyon mine to "talk soil." Their mission was an important one: guide the development of future education materials for the Nutrients for Life Foundation.
Recent Posts

July 25, 2014 | 9:07 am
This year, we had overwhelming participation by chapters across the country in the Helping Communities Grow program! In the coming months, we will be highlighting the hard work of winning chapters from each category.

July 23, 2014 | 12:07 pm
This is our second guest post from Pink Tractor and we love the topic! For those of us with space constraints, this gardening post is for you. Where there's a will, there's a way!
July 18, 2014 | 9:07 am
While I wait for my garden to mature, I support my local farmers market and road side stands. I have always been grateful for farmers markets. They have given me fresh produce when I didn't have the time and space to plant my own garden. During my youth, the farmers market was a source of income (and entertainment) for my family.
July 08, 2014 | 10:07 am
We are in the dog days of summer and there isn't a lot to report in the garden. The hail set us back so while others are harvesting, we are waiting and watching for everything to grow, bloom and produce. As we wait; we water, weed and fertilize.

June 25, 2014 | 11:06 am
Oh Hail! I watched the dark clouds roll in as I weeded the garden. I thought I would weed until it started raining, however, when the lightning started I headed to the house. Within twenty minutes, the garden was gone. Hail and high winds shredded my tender plants as I helplessly watched from the window.
June 17, 2014 | 4:06 pm
We have a big garden, a few acres of brome hay, one heifer, two steers and a barn full of cats. I wish I could say that was enough to make me a farmer, but it doesn't. I just tell people we pretend to farm.

June 12, 2014 | 12:06 pm
With the weeds under control (for today) I had time to fertilize. The sweet corn is about twelve inches tall, a good indicator that it's time to fertilize. Sweet corn needs more nitrogen than a lot of other garden vegetables.

June 04, 2014 | 8:06 am
Recently, the Nutrients for Life Foundation participated in the third annual USA Science and Engineering Festival (USASEF).The event has taken place in Washington, D.C. for the past 4 years and is the largest science, technology, engineering, and math (STEM) event in the United States.

June 02, 2014 | 8:06 am
"Moooooom, your garden is weedy!" said a bossy little five-year old. She is good at pointing out the obvious. After some much needed rain and sunshine, the garden is bursting with green, most of it weeds.
May 29, 2014 | 8:05 am
Attention teachers! We are excited to announce the second edition to our Smithsonian-reviewed high school curriculum, Nourishing the Planet in the 21st Century.
October 31, 2013 | 3:47pm
Ms. Meggers is an avid gardener and overall soil enthusiast! She teaches seventh and eighth grade at Interstate 35 Secondary in Madison County, Iowa where she and fellow teacher, Hannah Ludwig, created a beautiful school garden. Ms. Meggers also teaches soil science in the classroom with Nutrients for Life materials. Read on to find out why one of the Foundation games is her favorite resource to get kids to "dig it!"
Nutrients for Life Foundation | Capitol View | 425 Third Street SW . Suite 950 | Washington, DC 20024