Nutrients are an important part of our lives.
See how they help feed the world and keep the Earth green through activities such as gardening.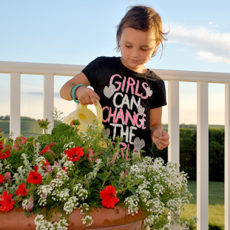 June 16, 2015 | 10:06 am
Potted plants bring color to the deck or front door step. To keep them blooming and growing fertilizer is key. That's how the grower got them so gorgeous and eye catching!
Recent Posts

June 01, 2015 | 8:06 am
There is lots of gardening to do in June! The garden is growing and so are the weeds! Check out my garden help; don't let the photo fool you. They were in the garden for less than fifteen minutes. I'll take what I can get.

May 18, 2015 | 9:05 am
It's all about curb appeal. I spend hours every spring sprucing up our landscape and flower beds for a summer of knock out color and attraction. If you want curb appeal the secret is timely fertilizer application.
May 08, 2015 | 10:05 am
There is a nursery tucked into the rural Iowa Loess Hills which grows the most amazing flowers! I have been looking forward to visiting all year and finally my friend and I squeezed a Monday morning trip into our busy spring schedules.
May 06, 2015 | 2:05 pm
Lilacs, asparagus and rhubarb! They are spring traditions that bring fragrance and nutrition to our home. I have sprouts in the garden and flowers on my deck. Spring makes me happy; I hope that you are enjoying spring, too.

April 20, 2015 | 11:04 am
The grass is green and the trees are budding! When you head outside here are a few things you can do around the house and garden.
April 06, 2015 | 9:04 am
It's dirty nail season. This time of year, I have a hard time keeping my fingernails clean cause I am digging in the earth!
March 25, 2015 | 10:03 am
Chicago is always a great place to visit and this year the National NSTA conference was held in the windy city. The conference ordered some beautiful weather that put the teachers attending in the mood to learn and take home new ideas for their science classrooms.

March 20, 2015 | 8:03 am
Today is the first day of Spring! That means fun in the mud at my house! Spring means different things around the country; it's time take advantage of the warmer weather and start prepping the garden and yard. Here's a look at your March to-do list. Pick your region and get to work.
October 27, 2014 | 11:10 am
Leaves are falling and the air is crisp; fall is definently here. Another year eaten, canned and preserved! The garden season is over. It's time to put away canning supplies, garden tools and prepare for winter to come.

October 21, 2014 | 10:10 am
Attention FFA Chapters and FFA Advisors: Educate Your Community & Earn Money For Your FFA Chapter. The Nutrients for Life Foundation is accepting application for the 2014-2015 Helping Communities Grow program!
October 31, 2013 | 3:47pm
Ms. Meggers is an avid gardener and overall soil enthusiast! She teaches seventh and eighth grade at Interstate 35 Secondary in Madison County, Iowa where she and fellow teacher, Hannah Ludwig, created a beautiful school garden. Ms. Meggers also teaches soil science in the classroom with Nutrients for Life materials. Read on to find out why one of the Foundation games is her favorite resource to get kids to "dig it!"
Nutrients for Life Foundation | Capitol View | 425 Third Street SW . Suite 950 | Washington, DC 20024