Nutrients are an important part of our lives.
See how they help feed the world and keep the Earth green through activities such as gardening.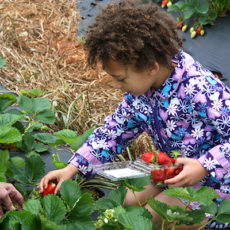 May 20, 2016 | 10:05 am
Today is Pick Strawberries Day! Have you and your family been out to pick these delicious berries right off the plant yet this spring?
Recent Posts

May 17, 2016 | 7:05 am
I finally got to my happy place, the garden! I have been dealing with a bit of garden guilt! The seed packets, transplants, fertilizer and hoe have been sitting at the garage door calling me to be planted and used. It felt great to dig, plant, and water. The garden is only half way planted […]
May 03, 2016 | 7:05 am
Turn your classroom into a virtual lab with these six interactive lesson plans designed to engage varied learners, enhance digital literacy, and increase overall retention of core concepts. Nutrients for Life Foundation is proud to provide ready-to-go slide decks, called Interactive Lesson Plans, for teachers. Each lesson corresponds to the Foundation's Nourishing the Planet in the 21st Century elementary curriculum.
April 18, 2016 | 8:04 am
Dig into the Earth on Earth day. Less than 3% of the entire Earth's surface is ideal for growing our food. So why not, dig in and experience it.

April 06, 2016 | 8:04 am
"We are thrilled to offer this resource at a time of world environmental awareness and unparalleled technological advancements that support responsible fertilizer use," says Nutrients for Life Foundation Executive Director Harriet Wegmeyer.

March 15, 2016 | 6:03 am
I believe every school should have a garden. Think back to your education; what do you remember? What teacher had an impact? I bet those memories are tied to an activity or teacher who brought innovation and experiential learning to the classroom.

February 29, 2016 | 10:02 am
As an organization that makes teaching about soil nutrients as easy as possible, we are excited to provide a new resource: Interactive Lesson Plans!
Interactive Lesson plans are ready-to-go slide decks that correspond to the Foundation's Nourishing the Planet in the 21st Century curriculum. Available via download, the Interactive Lessons provide enriching visuals and interactive opportunities for students to gain a deep understanding of soil and crop nutrients.
Take a look…
January 11, 2016 | 7:01 am
We had such a great time creating this event we thought we'd give you a quick look behind the scenes…

November 03, 2015 | 12:11 pm
The 2015 National FFA Convention & Expo was held in Louisville, KY on October 28 – October 31, 2015. A record breaking 64,409 FFA members and registered guests attended the annual meeting.

October 27, 2015 | 8:10 am
Harvest here in Northwest Iowa will wrap up soon. Lush green fields have been replaced with brown stubble. I enjoy watching the combines roll over the fields and grain dust fill the air. I often pause and reflect that harvest, whether it in a field or a garden, is the result of hard work and yields food for all of us.
September 01, 2015 | 9:09 am
There is a worn path in the grass that leads from the garden to the kitchen. After months of hard work, I am met with the excitement of enough vegetables to preserve; green beans to can, sweet corn to freeze, and cucumbers to pickle… you get the idea!
October 31, 2013 | 3:47pm
Ms. Meggers is an avid gardener and overall soil enthusiast! She teaches seventh and eighth grade at Interstate 35 Secondary in Madison County, Iowa where she and fellow teacher, Hannah Ludwig, created a beautiful school garden. Ms. Meggers also teaches soil science in the classroom with Nutrients for Life materials. Read on to find out why one of the Foundation games is her favorite resource to get kids to "dig it!"
Nutrients for Life Foundation | Capitol View | 425 Third Street SW . Suite 950 | Washington, DC 20024